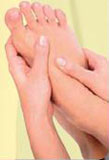 Inspect your feet and toes daily and wash with mild soap. Strong soaps may damage skin.


Test water temperature with your fingers or elbows before immersing your feet because diabetics may not be able to feel if water is too hot. Burns can easily occur.


Gently dry your feet, especially between your toes. Infections can develop in moist areas.


If your foot is very dry, it may crack and possibly cause an infection. Soften dry skin with lotion, petroleum jelly, lanolin, or oil. Avoid applying between your toes if there are sores.


Report all sores, blisters, bruises, cuts, or other changes to your doctor immediately.